We make vinyl signs, banners, and decals using a cut vinyl process. The result is a durable sticker or sign which measures its outdoor life in years. We start with a file in a specific graphics format called "vector". By starting with, or translating your image into vector graphics, our machinery traces the outlines of shapes with a diamond-tipped blade onto a roll of solid vinyl. We then peel up the unused vinyl space, and transfer the image to a surface of your choosing. We offer "ready to apply" decals, banners, corex, aluminum, vehicle magnets, window lettering and many other substrates. Another option we can now offer is the ability to print full color banners directly onto vinyl and canvas.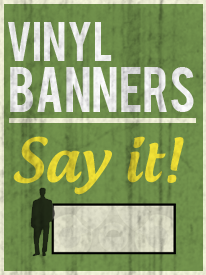 Vinyl Banners
The most commonly used material is a heavy weight vinyl technically known as PVC. Grommets can be added in order to facilitate hanging of the banner. Large banners (large enough to cover the side of a building) can be printed on a special mesh material so wind can easily pass through.
Vinyl banners are most often used to promote a company's logo, a special promotion, event, team or school. Since vinyl is a very flexible as well as portable you can see vinyl banners just about anywhere.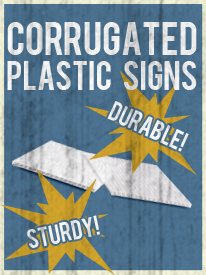 Corrugated Plastic Signs
Corrugated plastic refers to a wide range of extruded twinwall plastic sheet products produced from high impact polypropylene resin with a similar make-up as corrugated fiberboard. It is a light weight, tough material which can easily be cut with a craft knife. Manufacturers typically offer a wide variety of colors and thicknesses (quite commonly 4 mm).
This material is regularly used to create commercial signs, yard signs with metal stake inserts and constructing plastic containers and reusable packaging. It is widely used in the packaging of automotive and electronic parts as well as agricultural produce.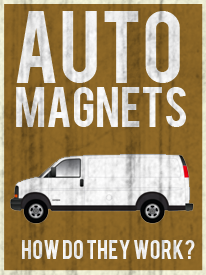 Magnetic Application
One side of this magnet is a matte white vinyl surface, the other side is black magnet.
Add your own waterproof decals and lettering to create colorful signs and graphics that will adhere to cabinets, metal doors, vehicles, refrigerators and other magnetically receptive surfaces. These sheets can also be screen-printed.
Magnetic car signs are a very effective advertising tool. Think of all the cars you pass each day. Each one is a potential customer!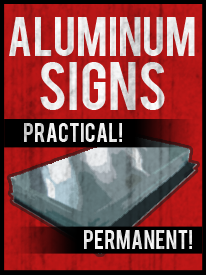 Aluminum
Aluminum is perhaps the most versatile sign material on the planet! This professional looking metal sign material is readily available in virtually any thickness, shape, color and size you can imagine. In fact, when businesses need large, seamless, unyeilding custom signage, aluminum is available in up to 6′ tall x 12′ wide sheets.
The lightweight yet rigid characteristics of aluminum signs make it the perfect choice in a variety of applications for both indoor and outdoor signage. From small interior door hangers and real estate signs to street markers and jumbo-sized exterior signs, aluminum signage is an excellent option to consider.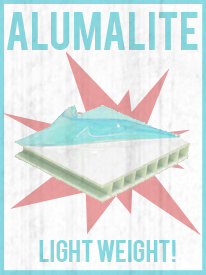 Alumalite
Alumalite has two sheets of strong, aluminum composite metal permanently bonded to both sides of a corrugated plastic core, sandwiching the plastic panel in between. The aluminum sides provide durability to the sign, while the fluted plastic core makes Alumalite a very lightweight material. It will not swell or corrode from the inside which makes it a perfect choice for outdoor applications.
Alumalite metal signs are the perfect solution when your sign panel weight must remain low while retaining excellent rigidity. The relatively light weight of Alumalite makes it an excellent choice when mounting considerations or mobility prohibit the weight of heavier wood core sign panels.
Examples